Day Two
A day hike up Rapid Creek and back down
Little Sandy Trail from Big Sandy Lake camp
Big Sandy Lake
The earth is enough, and if it isn't, I need to pay more attention
Temple Peak
In god's country and no need for gods.
Palms together, head bowed, give thanks
Miller Lake and Warbonnet Peak
The aesthetic confluence of lake, rock and mountain is a rapture unto itself.
Photography is so paltry in comparison to being there, and yet.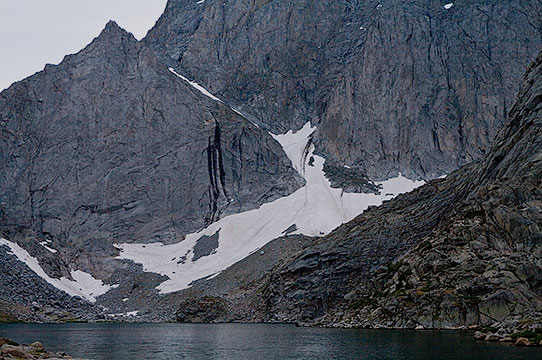 Temple Lake and Temple Peak
One of my favorite photographs
Whitebark Pine
The co-dominant treeline tree along with Engelmann spruce.
Wind-gnarled, living a thousand years, without prayer
Whitebark Pine
In trouble from bark beetle, blister rust, and changing climate.
Grizzlies depend on its seeds
And the co-dependent Clarks' Nutcrackers are an abundant, raucous lot.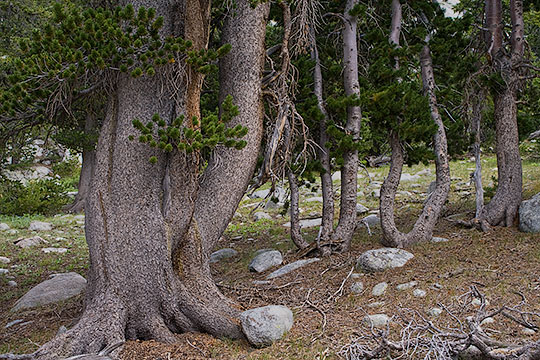 Whitebark Pine
Do I like the lakes better than the surrounding pines?
Can we separate these, can we separate anything?
Warbonnet Peak and Miller Lake
A faint social trail appears and disappears up the valley.
Humans were made to walk.

Deep Lake
Peaks left to right: Haystack Mtn, Steeple Pk, Lost Temple Spire, Temple Peak
Although this is supposedly one of the best climbing areas in the Winds, I didn't see anyone all day
on this perfect, warm, end-of-summer ramble.
(please use your bottom scroll bar to see the whole panorama)
Slopes of Haystack Mountain
Vertical stains of black manganese, an ancient calligraphy
Deep Lake and Lost Temple Spire
(please use your bottom scroll bar to see the whole panorama)